125. Spyro


Source: Spyro (1/1)
Nominator: red13n (6/6)

I don't know how he's this high count #54634

but looking at the next few.... damn I guess I just really did low-ball the Hotsuin ranking because I still don't care about these guys that much


I never did own a PS1 - as a kid, N64 was king in town and there was only one guy at school that had a PS1 (from what I've heard Canada's a huuuge anomaly of Gen 5). He invited me to a sleepover once... and I basically just watched him play Spyro. Really didn't help my impression of the PS1 because with other friends we'd always have a blast playing N64's many party games, it was a total multiplayer console after all.

I guess he got up this high due to familiarity... no matter how insignificant... but I mean he is pretty cool <_< I like dragons >_>

I do wish him and Crash continued with Sony as they did, but nowadays those kinds of mascot characters just aren't there thing =/


I'm ignoring the new design Spyro in all this. I don't really relate skylanders with spyro somehow
124. Toshu Kanada


Source: Bacchikoi (1/1)
Nominator: Raka (4/6)

oh god I didn't drop this guy yet? I dirty

.... if you don't know who he is.... do yourself a favour and don't find out. Lewwwwwwwd Rakaaaaaaaaaaaa

SERIOUSLY WHAT IS HE DOING HERE, I CAN'T FIND A SINGLE DESCRIPTION ABOUT HIM OTHER THAN SHOTA SEX

um he's cute

I know raka gave me a tiny description in the nom topic but... I don't think it was that much

HOW IS HE AHEAD OF THE HOT HOTSUIN, HE DOESN'T HAVE HIS LOOKS, AND HE DOESN'T HAVE ANY DESCRIPTION... WHAT'S GOING ON FFFFFFFFFFFFFFFFFFFf***

umm

....... did I just... bring him up here under..... Raka bias? is that possible?

>_>

fin
123. DEATH

Source: Discworld (1/2)
Nominator: Sir Chris (6/6)

HOW IS THIS ABOVE HOTSU-..... ACTUALLY, YEAH. NOT SURPRISING TO ME.

THIS GUY, WHILE I DON'T KNOW MUCH ABOUT DISCWORLD.... I DON'T READ BOOKS.. BLAH BLAH BLAH... HIS DESIGN HERE IS VERRRRY IMMEDIATELY RECOGNIZABLE AS APPEALING TO ME. I KINDA THINK OF MY LOVE FOR YOSHIMITSU. IT'S NOT SO MUCH JUST *SKELETONS*, BUT HAVING A BIT OF A COMICAL DESIGN TO IT. I LIKE THIS DEATH MORE THAN THE STANDARD DARK GRIM REAPER I'M USED TO.

NOW... THIS IS A LOT OF DESCRIPTION ON APPEARANCE FOR A NOVEL CHARACTER <____< SO LET'S MOVE ON.

THERE'S... A TON ON THIS WIKI SO I HALF-ASS SKIMMED IT -_-

SO, HE BASICALLY SOUNDS LIKE... WELL, DEATH. FULL OF GODLINESS. I LIKE HIS OBSERVANT "FASCINATION WITH HUMANITY" ANGLE, IT REALLY NAILS HOW UNIQUE HE IS AND THAT'S EXACTLY WHAT I LIKE ABOUT THESE KINDS OF CHARACTERS.
122. Jack O'Neill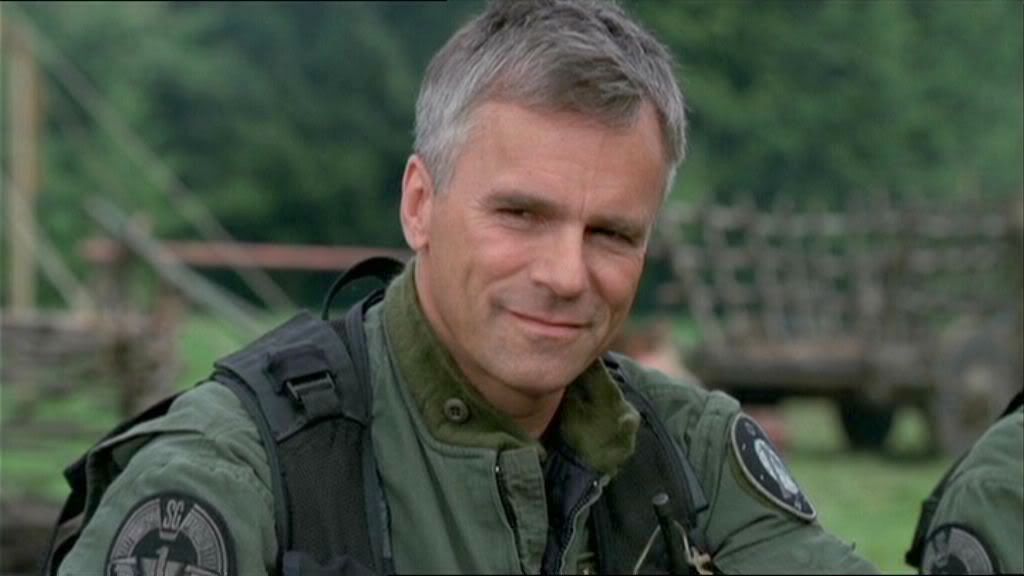 Source: Stargate (1/1)
Nominator: Sir Chris (5/6)

... I need to rush into the higher rankings because I think I slow down ranking when I run into people I don't know well.

Never really watched Stargate, my brother was watching in with his girlfriend in the same room some times so I caught a few things but uh yeah not paying full attention

but, youtube'd some jack when I was ranking and, despite initial google image searching... he's decently charming looking, and iunno, just pretty funny. Initial impression by just appearance put my expectations a bit low since I'm not really much of a fan of military types and he looks like quite the standard.... uhh.... Chris Redfield but with less muscle. I guess the low expectations really helped his rank tbqh

<_<

I wanna continue the rankings so THAT'S IT woooo
121. Thane Krios

Source: Mass Effect (2/2)
Nominator: Lapin (5/6)

*didn't play too far into Mass Effect, didn't get to Thane*

... Not he most attractive guy, but as an alien... kinda the type of look I like. Green being my favourite colour <_< But he has a very... sly appearance to him, and judging from the video where you meet him, he's exactly that kind of sneaking assassinish guy

So yeah he's just the kind of alien I'd like to be (in a space mercenaries type 'o theme), and I really love myself, so up he goes.
120. Willard H. Wright

Source: Umineko no Naku Koro ni (1/1)
Nominator: Raka (4/6)

Umineko is something I felt like I should see, but I dunno, I've always been inexplicably put off from doing it, possibly due to how huge the vn was on b8, as well with bunch of complaining I'd hear about the anime vs vn... and I'm a lazy non-reader

I realllly don't remember much of his personality at all from when I initially ranked him so uh let me go back and see..... he LOOKS like a douche but....

.... Not much here on the wiki but whoops don't I feel like a jerk from this "despite his appearance" description as a an actually kindhearted, lenient dude. From the start though mentioned cold / ruthless tactics, though that can be a good thing (intelligent, doing what needs to be done) as well as a bad thing (heartless, f*** y'all) depending how it plays out, but since I have no idea I can only really give him the positive of it

wiki mentions he does things different than Battler and Erika before him but how the hell would I understand any significance of that so forget it

When I said he looks like a douche, I didn't necessarily mean he looks bad, because he's actually decently attractive, definitely upper half of currently ranked.... I just meant he looks like he'd be a jerk

summing up

+attractive decent personality that apparently counters appearance (a double plus), supposedly unique but how would I know/care
- unfamiliar, not much to go on by the surface, forgettable
119. Bigby Wolf

Source: Fables
Nominator: GenesisSaga

LOST
118. Paul Bettany

Source:
Nominator:
LOST
117. Godzilla

Source:
Nominator:
LOST
116. Yuri Hyuga

Source:
Nominator:
LOST
115. Oliver Queen

Source:
Nominator:
LOST
114. Scarecrow

Source:
Nominator:
LOST
113. Takeshi Kitano

Source:
Nominator:
LOST
112. Fisto

Source:
Nominator:
LOST
111. Magnus Gallant

Source:
Nominator:
LOST
110. Spock

Source:
Nominator:
LOST
109. Ezio

Source: Assassin's Creed (1/1)
Nominator: Johnbob
LOST
108. Captain Kirk

Source: Star Trek (2/3)
Nominator: Anagram (1/3)

... I'm not a Star Trek guy!

but I mean he's cool with me. Yes I of course hear his name a lot, but I know him mostly for being William Shatner. CANADA PRIDE WAHOOO, Shatner's fantastic.

I never knew much about his actual Star Trek role... I get that he's the "captain" but uh well whatever. I know about fighting the Gorn! Teehee. In fact he seems pretty damn goofy in general which I find entertaining, I'm always a sucker for a silly man... and oh boy Shatner classix acting

https://www.youtube.com/watch?v=CywJD13fujw#t=33s

I pretty much know Shatner's later career, but in the old days... damn he's actually quite attractive.

There's also that Futurama Star Trek episode... buuuut that's more Shatner than just plain Kirk.... but damn was he the best one there.
107. Kevin Sorbo

Source: real life (11/13)
Nominator: Lopen
LOST... but "holy hell he's actually horrible he should be so much lower"
106. Chip

Source: Chip 'n Dale Rescue Rangers (1/1)
Nominator: Lapin
LOST
105. Ippo Makunouchi

Source: Hajime no Ippo (1/1)
Nominator: ange
LOST
104. Francis York Morgan

Source: Deadly Premonition (1/1)
Nominator: Ark
LOST
103. Taichi

Source: Chihayafuru (2/2)
Nominator: Natwaf
LOST
102. Abel

Source: Unlight (1/1)
Nominator: Raka (3/6)
LOST
101. Leonardo DiCaprio

Source: real life (10/13)
Nominator: tazzy (2/3)
LOST