100. Lelouche Lamperouge


Source: Code Geass (2/2)
Nominator: Mac Arrowny (5/5)

I'm always kinda conflicted about my feelings of Lelouche... I like him as a character, I love what he does, but he's not attractive to me.

I'm usually cheering for him like YEAH BADASS PLAN but then also DAMN MAN YOU COLD. Death Note is always incredibly comparable to Geass, including the protags.... however, Lelouche isn't AS evil like that so he still gets to keep some lovable points

Even just appearance-wise I don't know how to feel, he's casually a phresh and fangirlable hunk prince, but then when is darker side comes out it's like augh what are these facial expressions! Sometimes they're hot, but often they're legit terrifying! Gentle school idol Lelouche is definitely dreamy though.

like




WHAT KIND OF DREAMY FANGIRL BAIT


Anyhow, he's really not much of a loving guy so uh yeah I need that.


P.S. Shirley is bottom tier bad, C.C. 4 lyfe

P.P.S. https://www.youtube.com/watch?v=eGDqRH9VlwE

.... lmao I actually sang JIBUN WO, SEKAI SAE MO KAEEEEEEEETE SHIMAISOU NA in a second year JP class skit

actually I still have my classmate comments from that.... *snaps pic*




P.P.P.S. have a Lelouche Cosplay I ran into at Anime North I think last year?




so good mask (in the middle's my ex cossing unbreakable machine doll's yaya sry)
99. Snow Villiers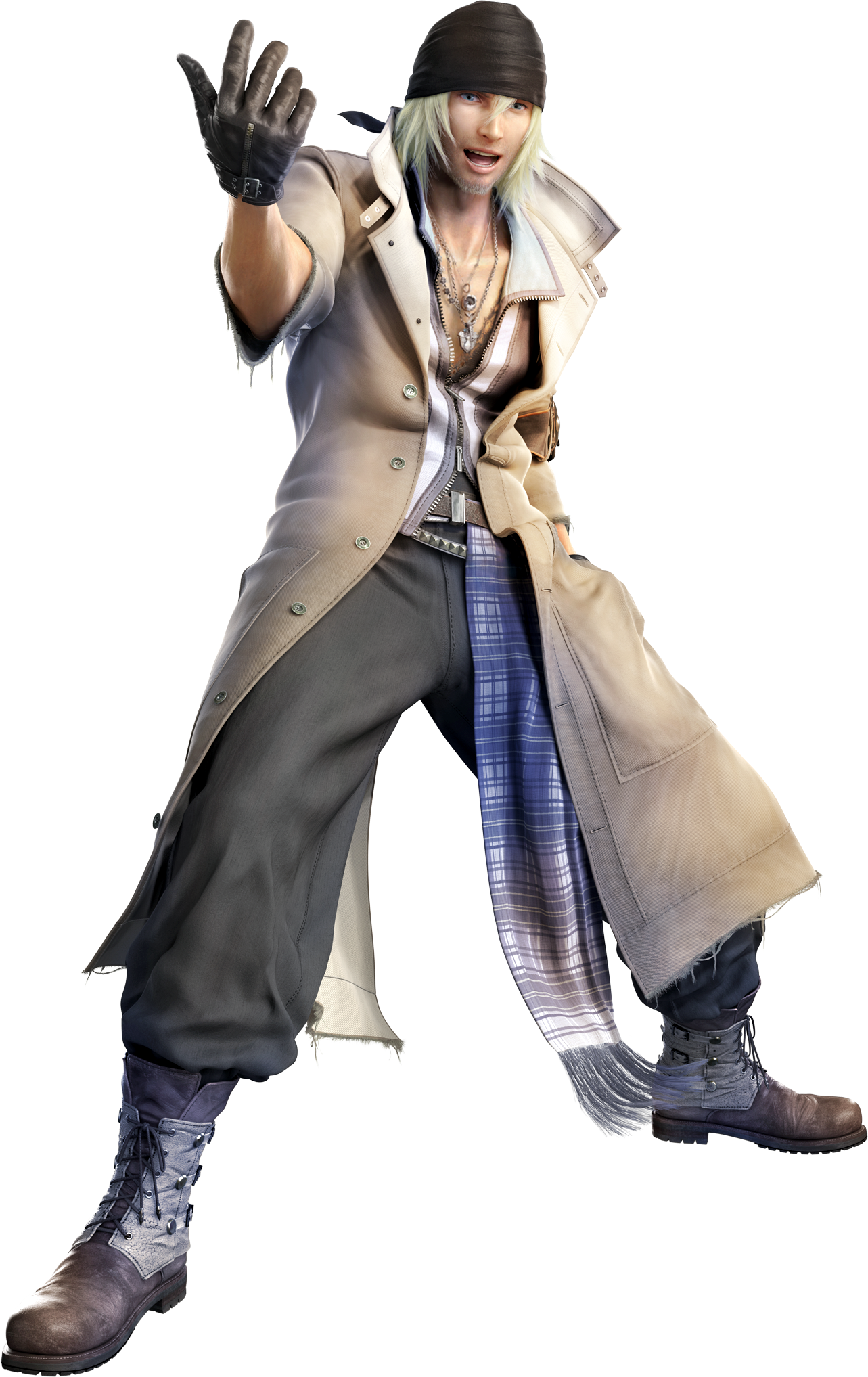 Source: Final Fantasy (7/11)
Nominator: Raka (2/6)

People might be surprised he's this high on Gmun's husbando ranking... and it should, because I despise XIII like nobody's business. THIS IS STILL A FACT AND XIII SHOULD BURN IN HELL.

But... Snow has never been offensively bad to me or anything, and seeing him get so much hate from a decent chunk of people has always confused me. This has led me to defend Snow from time to time which is crazy. Me. Defending something from XIII. What. Sooooo this weird hate people have has made me look at him more positively than I would have.

He's a big oaf. I guess people find that stupid, and he totally is... but he's a nice oaf that just wants to be a good guy. And good god is he EVER, the man is just a complete saint. Ungodly positivity that can even disarm and brush off the insane lunatic demonspawn known as Hope, as he tries to murder him (because hope is a f***ing psychopath).

I guess that's another thing that puts me in with Snow. Hope being a complete over the top crazy murderous moron that acts as though Snow beheaded his mother in cold blood and had his way with her headless body. It's like what I mentioned about real life Snow hate making me like Snow more, translated into the game itself. I'm like holy s*** Hope you're insane, Snow is not to blame for your mom's choices.


Anywho

Appearance wise... I mean, he's alright... his fashion style is terrible though and it really hurts because his facial features are perfect hotness material. And that hot blonde hair. Despite being Canadian, I'm honestly not a big fan of toques and with Snow I'm no different... he's much better without it in XIII-2. Although I do let it slide and don't deduct points for it, because it does give me Canadian feels. And then wthout it he's got like this lion's mane hair and I'm kinda like wat but it's not too bad.
98. Gomamon

Source: Digimon (1/1)
Nominator: Ermine (5/6)

We're kinda reaching a zone of husbandos that got a huge boost for familiarity attached to moderately positive or indifferent feelings.......... because really, I've always been irrationally anti-Digimon. Not reallllly anti, but the battle of Pokemon vs Digimon was decently strong which pushed me away from Digis to just being a casual watcher of the anime. Pokemon I was legit going over to friend's houses daily because their mom would tape the shows on VHS for us while it aired like right at the end of school.

Digimon kinda reminds me of the literally 1 kid in class that wasn't on the Nintendo party wave that I mentioned earlier in the Spyro writeup... because surprise surprise he was the only huge Digimon fan! And IIRC Gomamon was his fav! Also reminds me of Zachnorn's stickam room which would play episodes of both pokemon and digimon and even there the war was real

Gomamon... eh he's alright but never been a fav or anything which is why I'm still not sure how he's this high since that's usually killer to me! But yeah my fav is like Charmander and Gabumon.... gabu getting the superior partner bump. Buuuut admittedly that's like a purely superficial ranking of looks since I never really took the plot at all seriously. Actually I like Gomamon's character as a fun personality so I do think I'd like him a lot more if I watched again more attentively. His pre-evo is also da best of the bunch and he's got pretty unique next evos.

I kinda really wanna rewatch Digimon actually, I've started up again a few times but haven't really gone far on these attempts
97. Jang Hyunseung

Source: real life (9/11)
Nominator: PumpkinCoach (1/1) ELIMINATED (30/32)

oh BeastCoach

as kpop topic probably knows, the male side of kpop has juuust about none of my attention - aside from NU'EST, possibly having the most expensive concert I've gone to, all purely to fangirl over renren and giggle at baekho love love. I'm more into FAB GORGEOUS or teehee total fangirlables like.... uhhhh B1A4 super hot guy and and and that glasses guy is nice too

...

Hyunseung is more of a... mascufab powersex type where as I'm more for yasashii calm cool and GORGEOUS GORGEOUS - feminine helpful but not mandatory. So yeah while I haven't really payed much attention to the Beast posts which fiiiiiine I'll try to fix, Hyunseung seems good at that type although it's not so much mine. He's still pretty hot tho, as far as guys go, but I won't scream for him and I haven't followed enough to giggle at him like NU'EST's Baekho who is, while not nearly as physically attractive, omg strong lovable heart and cuteness.

... much better in motion, kinda perfect level muscles for small but strong figure, and of course yum dancing
96. Sly Cooper

Source: Sly Cooper (1/1)
Nominator: red13n (5/6)

Lessss familiar and if you've read Spyro you should already know why. But! I did actually play Sly for the first time relatively recently with Spy 1 on PS3. In anycase, even before that I've always liked Sly's design, bipedal is a plus, raccoons are cool, and bandit raccoons are simply logical. And I like bandits.

Playing the game it was pretty much what I was hoping from it, the characters are all pretty fun, lighthearted and charming, so Sly himself was a good laid-back goofy thief.

Um yeah that's it for him. I mean I enjoyed him and the game but not too crazy, 96th after all
95. Megatron

Source:
Nominator:
LOST
94. Dick Grayson

Source:
Nominator:
LOST
93. Talbain

Source:
Nominator:
LOST
92. Yukihara Soma

Source:
Nominator:
LOST
91. Noctis

Source:
Nominator:
LOST
90. Scourge the Hedgehog

Source:
Nominator:
LOST
89. Prince of Persia

Source:
Nominator:
LOST
88. William T. Riker

Source:
Nominator:
LOST
87. Heart

Source:
Nominator:
LOST
86. Garrus Vakkarian

Source:
Nominator:
LOST
85. Dio Brando

Source:
Nominator:
LOST
84. Nathan Drake

Source:
Nominator:
LOST
83. Thor

Source:
Nominator:
LOST
82. Minato Namikaze

Source:
Nominator:
LOST
81. Chris Evans

Source:
Nominator:
LOST
80. Liam Neeson

Source:
Nominator:
LOST
79. Marth

Source:
Nominator:
LOST
78. Rocket Raccoon

Source:
Nominator:
LOST
77. Yu Narukami

Source:
Nominator:
LOST
76. Testament

Source:
Nominator:
LOST